I think many people would agree with me that 2016 was a year that, quite frankly, should NOT be placed in the history books so we don't have to go through the effort of trying to remove it later on when we further realize what a PIECE OF GARBAGE that year was.
BUT HEY, it's 2017! That means things can be better, and who's to say they aren't already?
We got men sprinkling salt on soon-to-be cooked meats, with a move so elegant!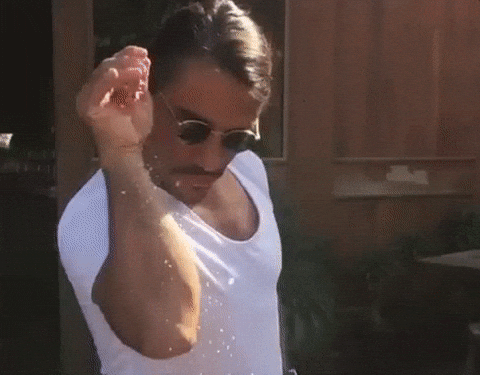 We got a version of Stephen King's IT coming that might actually be scary (The original TV mini-series IT has Tim Curry and he's the only part worth watching, King's mini-series were not well done folks!)
WE GOT A FRAPPUCINO THAT EITHER TASTES LIKE MANGO MILK OR SOUR PATCH KIDS, THE REVIEWS ARE QUITE MIXED!
(Photo: Buzzfeed)
But we also have another 365 days to propel women to the top of the comic book and entertainment world!
The Hub, owned by Yalsa, discussed the possible predictions of what the year is going to look like for women in comics.
(Photo: DC Comics)
"2017 is going to be a great year for superhero comics written by women. Marvel has a number of options coming up that are both by women and about women, with three debuting next August," states the writer (whose name I could not find on the page), "Margueritte Bennett will pair up with James Tynion IV for a two issue "Batwoman Begins" story in Detective Comics, which will serve as a launching pad for the new Batwoman series by Bennett with art by Steve Epting."
So it seems gender diversity in the writing world of the industry is on a very fast, uphill kind of motion! Hurrah I say! Hurrah!
And in the con world, it's not just gender diversity we're seeing, but diversity for people of color as well.
Gotham Geek Girl dove into this years Women in Comics NYC, and her post about the event is full of strong women!
(The following photos belong to Gotham Geek Girl, please check out her original post in the link above!)
Sha-Nee Williams, a graphic artist and illustrator!
Irene Y Lee, a comic artist, writer and graphic designer!
Blossom Blair, a self-taught digital artist and student (YAS BRING ON THE STUDENTS, REPRESENT THE YOUTH)
One of the main objectives for WINC is to promote diversity in the community, and GGG points out one of the lesser known inclusions, latinx (a gender neutral term alongside latino and latina).
So it would seem 2017 is serving us a well-needed heap of inclusive and positive news in the comic book world, and with this, I leave you, dear reader, with a small equation.
A fuck ton of women writing various comics + inclusion of women of color and various LGBTQ communities at Women in Comics NYC = A very hopeful community.
And a very happy me.